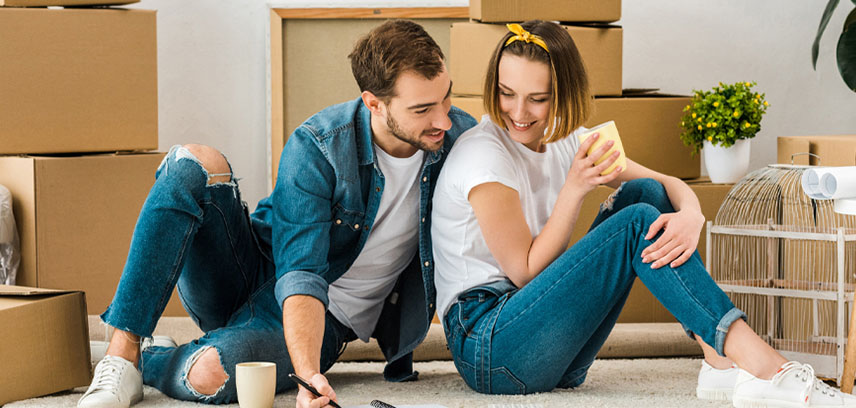 Being a first-time buyer
Saving for a first home is an exciting prospect. For some of you this milestone may seem a while away, but before you know it you will soon be ready to put a deposit down and become a homeowner!
Initiatives like the Lifetime ISA could be the defining difference for making your way onto the property ladder sooner. And before you settle into your home, it's important to also take steps with insurance cover, including your mortgage. As a first-time buyer, the money you save for your new home is crucial, but so is committing to a mortgage before your big moving day. And so having peace of mind that your mortgage is protected means you don't need to fear for the unexpected occurring and how to repay this commitment.
I am a first-time buyer and would like to find out more about Lifetime ISAs >
I am currently a homeowner and would like to learn more about mortgage protection >
Lifetime ISAs
Lifetime ISAs are a type of ISA available for UK residents aged 18 – 39. This savings account was introduced by the Government in 2017 and could be ideal if you are looking to save towards buying a first home, with a generous 25% Government bonus for every contribution you make. A Lifetime ISA doesn't have to just be used towards a first home but can also be used for later in life. The money you would have saved is available to access after your 60th birthday.
The annual contribution allowance is currently £4,000 this tax year. The 25% Government bonus is also added automatically to your Lifetime ISA savings, so there is no need to claim for this when you start the process for buying your first property. This £4,000 counts towards your overall ISA limit of £20,000 for the tax year.
The Lifetime ISA can only be used towards a first home once it has been opened for 12 months. As the Lifetime ISA limit applies to each individual, you and a partner (if eligible) can have a separate Lifetime ISA and combine your savings to purchase a first home together, worth up to the value of £450,000 in the UK. When you are ready to purchase your first home, you must be buying the property with a mortgage loan in place.
Learn more about how to use a Foresters Lifetime ISA towards a first home >
Our Forester Life Lifetime ISA
Our Forester Life Lifetime ISA invests in stocks and shares. Our professional fund managers at Schroders will make investment decisions for you. With a risk-controlled and sustainable approach, no more than 60% of your money will be invested in shares – protecting your savings against market fluctuations but giving the opportunity for growth. Find out more about our Foresters Stakeholder (Schroders) Managed Fund >
As with all stock market investments, the value of the ISA can fall as well as rise, and you may get back less than has been paid in.
At Foresters Financial we also offer a personal financial planning service, where you can discuss your options with a Financial Adviser through face-to-face or video appointments. As they are paid directly, our Advisers will not charge for any advice given. Request a Financial Adviser >
With our ISA you also have the option to open both a Lifetime ISA and Stocks and Shares ISA within one Plan. Learn more about an ISA with Forester Life >
Are you ready to become a homeowner?
If you are looking to take the next step and buy your first home, you can make these dreams possible by opening a Lifetime ISA. Open a Lifetime ISA with Foresters Financial today >
Important Information
As with all stock market investments, the value of your Plan can fall as well as rise, and you may get back less than has been paid in.
A Lifetime ISA must be held for at least 12 months before using it towards the purchase of a first home. By saving into a Lifetime ISA instead of a workplace pension, you could lose the benefit of employer contributions and the value could affect any entitlement to means tested benefits. If you make an encashment before age 60, other than to purchase your first home, you will pay a government penalty of 25% on the encashment amount, and you may get back less than you paid in.
Tax treatment depends on individual circumstances and may be subject to change.
Protecting your mortgage
Owning a home is an exciting milestone, but it is also a time when you should think about getting insurance to protect the home you have saved so much for. Think about if you were no longer able to pay for your mortgage and what could happen next. What would the future of your home look like? How will you ever repay this debt?
However, research from 2021 shows that 22% of mortgage holders would not consider taking out protection if they did experience a change in their circumstances.
Saving for your first home before buying is one part of the journey – and continuing to commit to the mortgage you would have taken out before finalising your property is the next.
Whilst we take out other insurance cover, such as buildings and contents insurance, taking out a mortgage loan and insuring this should also be considered when owning a home. For many of us, a mortgage on a property is the biggest financial commitment we will ever make. The average mortgage debt in the UK in 2020 stood at £137,934, so it is crucial to consider having protection in place to prepare for the unexpected.
Although it is not something we want to think about, especially during the exciting times of becoming a homeowner, but being able to cover your mortgage during unpredictable times is crucial. Did you know that 1 in 6 stroke survivors experience a loss of income which could impact their ability to pay their mortgage to protect their home, and the ones they love who live in it? Unfortunately, the facts do not stop there – every 5 minutes someone in the UK goes to hospital due to a heart attack and 1 in 2 people in the UK born after 1960 will be diagnosed with some form of cancer during their lifetime. These critical diseases could happen to us and if we were no longer able to work, your finances and home could be at risk. That's why we are proud to offer mortgage protection to cover you and your loved ones, to support your personal and financial wellbeing.
Our Mortgage Protection Plan
At Foresters Financial we have been helping protect families and their loved ones by getting the protection for nearly 150 years. Our Forester Life Mortgage Protection Plan can be used to repay an outstanding mortgage in the event of death, critical illness, terminal illness and permanent disability. We offer a range of protection options for our Mortgage Protection Plan which includes Life Benefit, Critical Illness Benefit and Combined Life and Critical Illness Benefit. Find out more about protecting your mortgage >
Peace of mind for you and your family
At Foresters Financial we also provide Personal Insurance as well as Mortgage Protection, to protect you and the ones you love should the unexpected happen. Our Financial Advisers are on hand to help find cover suitable for you and your family's needs. You can get an insurance quote by requesting for a Forester Life Financial Adviser, either face-to-face or via video appointment. There is no charge for advice given on protection. Speak to a Financial Adviser >