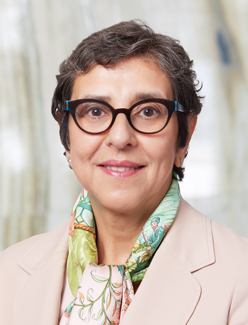 Audit and Compliance Committee, Human Capital and Governance Committee
Sonia A. Baxendale
Sonia Baxendale was appointed President and CEO of the Global Risk Institute (GRI) in January 2019, the premier organization defining thought leadership in risk management for the financial industry globally. From July 2017 to January 2018, Sonia served as Co-Interim President and CEO of Foresters Financial™.
Prior to joining GRI, Sonia was President of CIBC Retail Markets, where she led the Retail and Wealth Management businesses from 2005 to 2011. From 1992 to 2011, Sonia played a key role in developing strategy and direction for CIBC and held leadership roles including Senior Executive Vice-President, CIBC Wealth Management, Executive Vice-President, Asset Management, Card Products and Collections, and Executive Vice-President of Global Private Banking and Investment Management Services. Prior to joining CIBC, Sonia held various positions with American Express Canada and Saatchi & Saatchi.
Sonia was named one of the "Top 100 Most Powerful Women in Canada" for three years in a row and then joined the ranks of the Top 100 Hall of Fame in 2010. In 2000, she was recognized as one of Canada's Top 40 Under 40. She is a graduate of the University of Toronto, where she was named University of Toronto, Victoria College Alumni of Distinction in 2017.
In addition to her role at GRI, Sonia is currently Chair and Director of Hospital for SickKids Foundation and Director of Hospital for SickKids Trustee Board. She is a member of The Independent Review Committee on Standard Setting in Canada and serves on the boards of the Bank of NT Butterfield and Laurentian Bank. She has previously served on several other corporate and not-for-profit boards.
Sonia has been a member of the Foresters Board since 2012; she currently serves on the Board's Human Capital and Governance (Chair) and Audit and Compliance Committees.