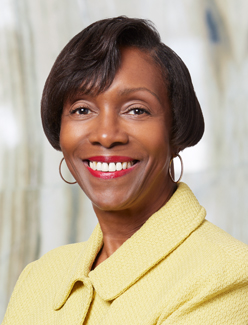 Chair - Human Capital and Governance Committee, Fraternal Committee, Risk and Investment Committee
Linda A. Davis Watters
Linda is an Independent Director with John Hancock Life Insurance Company, and brings extensive state, national and international regulatory leadership experience to her role.
As Vice President of Government Relations, Linda built John Hancock's state government regulatory and legislative affairs platform and coordinated high priority issues with Manulife's international regulatory affairs' teams across six Asian nations. She also reported regularly to the John Hancock board on regulatory and legislative issues.
Before John Hancock, Linda held transformational senior leadership roles, including as Managing Director, Financial Risk Management, with KPMG LLP in Chicago, Commissioner, the Office of Financial and Insurance Services, appointed by Michigan Governor Jennifer Granholm and as founder of the Detroit Commerce Bank and subsequently as its President and CEO from 1998 to 2003. Prior to that, she held positions with commercial banks in the Midwest and with General Motors Corporation.
In 2014, Linda was appointed by Massachusetts Gov. Deval Patrick to the Successful Women, Successful Families Task Force. She also served on the board of the U.S. National Archives Foundation in Washington DC and chaired the Governance Committee and served on the Finance Committee. Her professional and volunteer service has included board directorships and membership in insurance, community health, business, education, women's, and urban/minority advocacy organizations.
Linda earned her MBA from the University of Dayton and BA in Business Administration/Economics from Bowling Green State University. She was awarded a Leadership in the 21st Century certificate from Harvard University's Kennedy School of Government executive education program. She also holds an Executive Masters Professional Director Certification from the American College of Corporate Directors.
Linda has been a member of Foresters Board since 2021; she currently serves on the Board's Human Capital and Governance, Risk and Investment and Fraternal Committees.