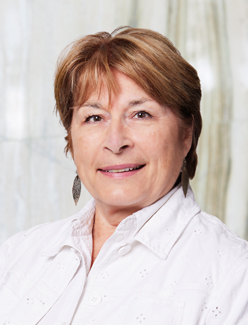 Chair - Risk and Investment Committee, Human Capital and Governance Committee
Katherine A. (Kathy) Bardswick
Kathy brings extensive board experience and, as the former CEO of a purpose-driven organization, wide-ranging knowledge of profit and loss, operations, distribution, information technology, and marketing.
With a career spanning nearly four decades with The Cooperators Group Ltd., Kathy stepped down as its President and CEO in 2016.
She began with the Co-operators as an underwriting supervisor, rising through the ranks of management to executive leadership roles including Region Vice President of Co-operators General Insurance Company, COO of L'Union Canadienne, and COO of Sovereign General Insurance Company before her appointment as President and CEO of The Co-operators Group in 2002.
Kathy has been very active in the cooperative and mutual insurance movement, as well as in her local community. She is currently Director of RGA Canada, Wawanesa Mutual Insurance Company, CEO of the Canadian Institute for Clean Growth and Climate Change and Trustee with the University Pension Plan. Kathy has held professional board and voluntary roles with a wide range of organizations including: International Cooperative and Mutual Insurance Federation, International Cooperative Alliance, Institute for Catastrophic Loss Reduction, Canadian Council of Chief Executives, United Nations Inquiry into a Sustainable Financial System, University of Guelph, Burlington Economic Development Corporation, the Conference Board of Canada, Addenda Capital, and The Cooperators Group Ltd. She is immediate past Chair of the boards of the Institute for Catastrophic Loss Reduction, International Cooperative and Mutual Insurance Federation, and CUMIS Group Limited.
Kathy holds a Bachelor of Science (Math) from the University of Manitoba and an MBA (Marketing) from McMaster University. She was appointed Honorary Chartered Insurance Professional with the Insurance Institute of Canada and received her honourary Doctor of Laws from the University of Guelph in 2019.
Kathy has been a member of the Foresters Board since 2017; she currently serves on the Board's Human Capital and Governance, and Risk and Investment Committees.