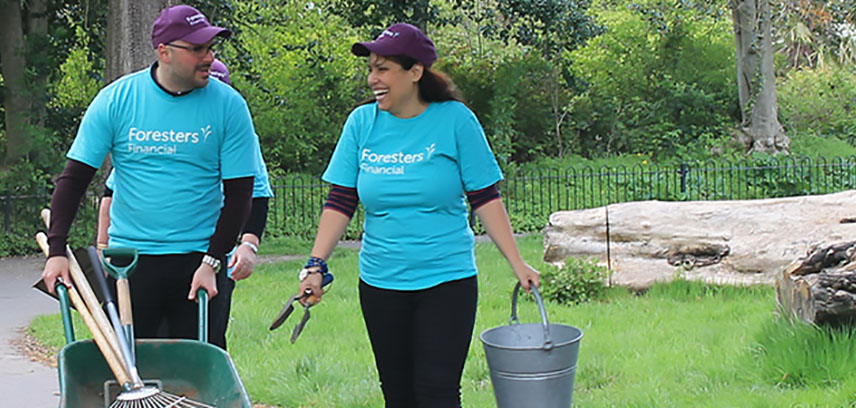 Foresters Difference
We are not just a financial services organisation. Foresters Financial begins and ends with our Purpose, and that's to enrich family and community well-being. Helping people is who we are, and it's been so since the very beginning, since 1874.
So, whilst for many members and their families we are their trusted provider for financial solutions, we are also here to help those who help others. The real people, who work hard to make the world a better place. Those who make communities stronger and families tighter. The ones that know making a difference means making sacrifices. And they make them. And in turn we are here for our members, the only way we know how that's by helping. It's at the heart of all we do.
When you join Foresters, you join our network of members, who take advantage of our unique member benefits, and make their communities a better place.
We're driven to share not shareholder driven.
And that's what makes us different, and you can be a part of it.
WHAT OUR MEMBERS DID IN 2020
2020 was a year like no other, but Foresters and our members continued to give back to the communities they live in.
Although member events had to be a little different, members came together virtually to help in their communities. From putting together activity packs to essential non-food items for food banks across the UK, our members made a difference and helped organisations including The S6 Foodbank, which is supported by The Trussell Trust. In Basingstoke, members purchased and distributed bikes to give to Dove House School Academy, for use by pupils with learning and social difficulties.
Other members got crafting and created various items to help their communities and beyond, such as face coverings for key workers and care packages for the vulnerable.
Even virtual events took place to help our ecosystems and wildlife, including the build of 70 nest boxes to be used for birds, bats and bugs in support of the Canal & River Trust (CRT).
Caring through Crisis (CTC) Grants
As a result of the COVID-19 pandemic, Foresters Financial launched a unique Caring through Crisis Grant available to members looking to make a difference at a difficult time for many communities. CTC Grants were available until August 2020 and there were many members who got involved to give back to their communities and key workers.
In the UK we had 311 CTC applications, impacting 11,436 people in these unprecedented times, with £76,309.55 worth of funds awarded to make this vital impact.
Double your Impact
Foresters Financial also launched a donation matching programme due to the effects of the COVID-19 pandemic. Double your Impact was an initiative where members and their families could donate to help four chosen charities – National Emergencies Trust, Re-engage, Trussell Trust and Cash for Kids, our national partner.
WHAT OUR MEMBERS DID IN 2019
In 2019 alone, Foresters invested more than £7.4 million in claims and member benefits including £1.48 million in competitive scholarships for students in the United Kingdom, Canada and the United States. We also provided over £2.88 million towards community initiatives such as Care Package, Community Beautification, Create & Construct, Meal Help, Volunteer Support, and Fun Family events where our members can spend quality time with their families at no cost.
In the UK in 2019 over 1,800 of our members took part in community involvement days, from cleaning local beaches to putting together presents for children.
Community beautification
In 2019 our members took part in transforming garden areas and beach cleans, just some of the examples of how our members have helped their communities become a better place.
In September 2019 a group of members took on a DIY SOS inspired challenge and transformed a neglected garden at the Chelmsford-based Kids Inspire charity.
In April 2019 members cut back overgrown trees and hedges, and planted flower beds, to improve the environment for visitors at Wellington Country Park.
Charities
ReadiFood Food Bank - a group of Foresters members helped pack over 2000 food items into parcels for the service, to help those struggling financially in need of assistance for basic food.
Isla's Journey - a group of Foresters members helped pack over 200 baby packs to help those at the hospital for when pregnancy doesn't go to plan, where the items will be needed to help.
Bluebell Wood Children's Hospice - a group of Foresters members took part in a craft workshop and built woodland animals which they donated to the charity, along with extra care kit supplies.
Care packages
In 2019 over 90 events took place to put together care packs for the less fortunate. This included care packs for the homeless, hospital packs for emergency pregnancy, emergency kits for troops, welfare packs for our furry friends and Christmas presents for children. Altogether, more than 7,700 care packages were produced and distributed by our UK members.
Foresters work closely with Cash for Kids, especially with their #MissionChristmas campaign. Events were arranged with not just members but staff at Head Office getting involved to help pack hundreds of presents for children of all different ages, who would not have received Christmas presents.
In March 2019 a group of members and their families put over 50 packs together for homeless teens, in partnership with Depaul UK. Providing items from new clothes and toiletries to puzzles and books.
Family days out
In 2019, a group of 120 Foresters members went to The Yorkshire Wildlife Park to see the only polar bears in England to majestic lions, tigers, black rhino and so much more with a delicious barbecue lunch!
Members had a wonderful day at Leeds Castle for a Classical Concert, with performances from The Bands of HM Royal Marines and a spectacular firework display to finish the day.
Refurbishing
In 2019 members took part in constructing areas such as primary schools and hospices, creating better environments for their communities.
A group of members helped to build a duckery in Perry Hall's school grounds, to teach children how to care for animals and take responsibility.
9 members helped beautify the environment at Ronald McDonald House, the temporary accommodation for families with a child staying at Birmingham Children's Hospital planting trees and building fairy gardens.
If you are a member of Foresters why not get involved and make a difference? Visit our grants page.
Foresters Care
If you want to make a difference in your community by helping when and where it's needed, apply for our Foresters Care community grant. You can inspire your fellow members to participate and share ideas on meaningful activities to contribute towards a good cause. If you are interested, apply today by logging into MyForesters.
Accessing your member benefits with MyForesters
MyForesters is where you can apply for grants, check your current grant applications, and learn more about your other member benefits. You can also explore the new LawAssure benefit, an online document preparation service that helps you create wills, powers of attorney, and healthcare directives/living wills. You will need your Plan number and the email address we have on our records to register. Sign up to MyForesters >