Meaningful work that makes a difference
Impactful work. Making a difference.
Foresters Financial™ is an international financial services provider with thriving operations in the United States, Canada and the United Kingdom. But we're so much more! Our purpose – to enrich lives and build strong communities – has defined us since 1874 and it continues to redefine what a financial services organization can do.
If you join our purpose-driven organization, you'll be engaged in impactful work with advancement opportunities; you'll join an enterprise of caring and friendly colleagues who share similar values; and you'll have opportunities to get involved in the unique ways we work together to make a difference in our communities – including neighborhood programs, charities, and scholarships.
As a Foresters Financial employee, you'll help people reach their financial goals, protect their families and improve their communities. No matter what area you work in, you can take pride knowing that your hard work helps make important community-based initiatives possible.
"It's really the amazing family connection and community involvement opportunities; we really are doing something significant and unique."
- Foresters Financial employee
We provide meaningful challenges and growth-oriented career opportunities
We provide a workplace where you can make a difference. We invest in the success of Foresters Financial, and one another
We attract, retain and reward top talent
We provide a culture where everyone can thrive
We're committed to your family
We provide opportunities for you to learn and grow
We provide excellent coaching, rewards and recognition
Careers
Interested in a career with Foresters Financial™? Our Careers section has information on what it's like to work for us as well as links to current openings.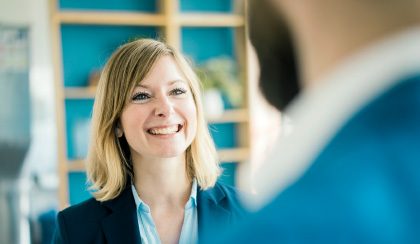 Corporate opportunities
In our corporate offices you'll find career options in a wide variety of areas including investments, accounting, compliance, customer service, sales and management. Our office environment is professional, and while we work hard, we enjoy what we do.
413386 US (06/22)
Foresters Financial and Foresters are trade names and trademarks of The Independent Order of Foresters (a fraternal benefit society, 789 Don Mills Road, Toronto, Canada M3C 1T9) and its subsidiaries.